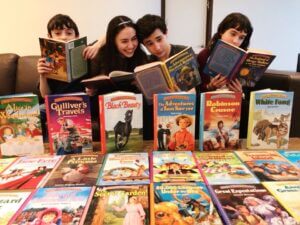 Alana Blumenstein of KidsRead2Kids is our guest blogger.
When Jacob and I founded KidsRead2Kids in June 2017, we were only in high school. But we had a big dream: to support every struggling learner – and let them know they are not alone.
In our family of seven, each member has a learning difference. Jacob (18) and Julia (16) are dyslexic. Reuben (14) and Benjamin (23) are ADHD, as is our father, Ricky. Some also struggle with dysgraphia.
And, though never diagnosed, my mother Carol has struggled with reading and spelling all her life.
Growing up, we knew nothing of learning disabilities. When my brother Jacob started school, he couldn't learn to read. His teachers and classmates didn't understand his inner struggle, mistaking it for laziness. Jacob felt stupid and ashamed – and utterly alone.
When he was diagnosed with dyslexia in 5th grade, he quickly switched to a school with better resources. He knew he was lucky, so he decided to give back to kids like him.
I also struggled with selective mutism as a child, which affected me severely in school. I knew what it was like to sink in a learning environment, to feel misunderstood by peers and teachers. And I wanted to help.
In 2016, I entered a local Shark-Tank competition on behalf of KidsRead2Kids – and won. The prize was $250 in seed money. It wasn't much, but with our passion, it was more than enough. One year later, we were ready to begin.
Our decision didn't come as a surprise to our family. Our mother Carol helped us create it.
I was a 17-year-old junior; Jacob was a 15-year-old freshman. Neither of us knew anything about how to start and successfully run a nonprofit. But she did. My mother is a Wharton graduate and a former engineer and consultant. Luckily for us, she was more than willing to help us achieve our goal.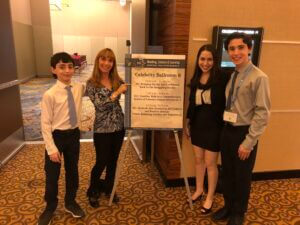 We were never alone in our journey. My mom has always been our biggest supporter, and we wouldn't be anywhere without her.
Today, KidsRead2Kids is Parents' Choice award-winning nonprofit dedicated to bringing the joy back to the struggling reader. We provide video-audiobooks of abridged classic novels read by high school volunteers, to show every child that they are not alone. We have also created lesson plans to Peter Pan and Anne of Green Gables to support teachers, parents, students and librarians amid remote learning. Each chapter includes listening comprehension questions, creative writing prompts, a vocabulary builder, and fun games.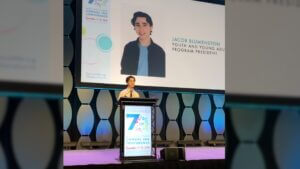 In addition, we are the Ambassadors for the National Center on Improving Literacy (NCIL)'s Kid Zone! and Jacob is the founding President of the International Dyslexia Association Youth and Young Adult Advocate program. KidsRead2Kids is also partnering with Teach My Kid to Read. We provide interactive reading videos of wonderful picture books for early learners and fun activities to support early reading.
With help and support, we have made a lot of progress. But we are far from done.
In our upcoming digital KidsRead2Kids Magazine, we will share our own personal advice. In addition, we will highlight impressive people all over the world – each with their own unique story. We hope our magazine will provide comfort for parents and encourage kids to believe in themselves. We can't wait for you to read it!
To any kid who aspires to make a difference: the most important thing is to believe in yourself. Always trust your gut and lean towards your passions. That's what we did. Our dreams and interests are our greatest superpowers.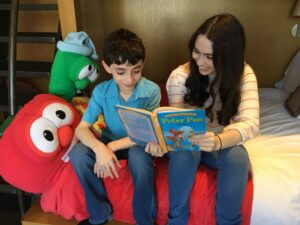 And remember, we're always here if you need support or feel alone. If you have any questions (or just want to say hi) don't hesitate to reach out! You can email us anytime at info@kidsread2kids.com. We'd love to hear from you. If you want to stay updated on our exciting news, please subscribe to our YouTube Channel and mailing list. We hope you enjoy our site and we appreciate all the support.
It's taken a lot of hard work and passion, but we are much further towards our goal. Not only that, but we have met many inspiring people and learned so much along the way. It has been an incredible journey and we are so grateful for it all.
Looking back, it's crazy to think that it all started with two high school kids. We hope our story encourages you to believe in your dreams, too!
---
Check out Jacob Blumenstein's interview on NDC's YouTube channel and subscribe!