EVERYTHING is going online. Employers are requiring employees to work from home via video chat and email. Schools have sent children home and are trying distance learning.
What about your struggling reader? Did your child receive intervention services at school, but now he's at home and it could be weeks or months before they resume? Won't your child fall even further behind in reading if he's not getting help?
There is help and hope for struggling readers with remote tutoring! How does it work?
Contact us to schedule a consultation via phone or video chat. We'll talk about your child's academic progress, report cards, testing, etc. to see if your child would benefit from our services. Then we'll pair you with the right tutor based on your child's needs and personality. You'll need a fast computer, mouse, and headphones – and your child can get started!
Tutoring takes place twice a week for an hour. Your child will see his tutor via video chat, and the tutor will teach the exact same lessons with Whizzimo, all from the comfort and safety of your home! Tutoring sessions are individual, so your child will learn at his pace. He will begin to master reading and spelling skills that were once so difficult.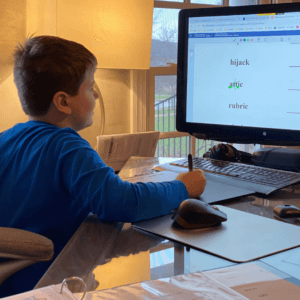 Does your child need a private tutor for reading? If you can say yes to three or more of these signs, we invite you to call us to learn more. Here's to great progress in reading — anywhere!